Celebrate your birthday at Nutrien Wonderhub!
Nutrien Wonderhub is a fun, interactive space perfect for kids to play, learn, and celebrate.
We offer three colourful, wonder-filled party rooms on our upper mezzanine as well as spaces on the museum's lower level to host groups of all sizes. From our party rooms you'll have full views of the North Gallery, which contains three of our signature exhibits (Cosmic Commotion, Boxes of Fun, and Airways), as well as easy access to Blast Off.
What's included:
Private party room for 1 hour complete with built-in cabinetry, table and chairs, mini-fridge, and television
Complimentary museum admission—stay and play all day!

While we are having to limit our overall capacity we are not able to include general admission for birthday parties.

An introduction and welcome with one of our friendly program facilitators
Guests are welcome to explore and experience the museum either before or after the scheduled party room booking, but must enter as one group. Bookings are available on Saturdays and Sundays.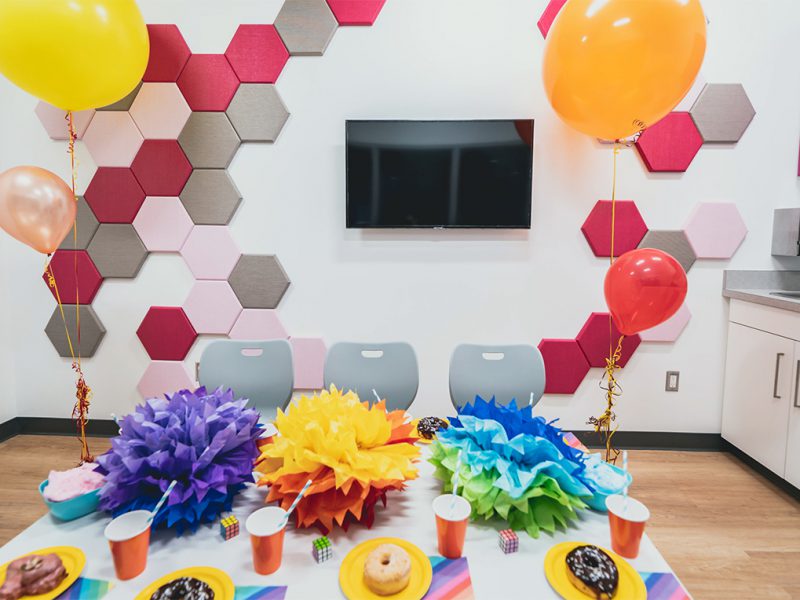 The Pink Room is a cozy space perfect for small groups.
Capacity: 12 people total (seating for up to 8)
Cost: $145 plus tax
The Green Room is a versatile, mid-sized space that overlooks neighbouring Kinsmen Park.
Capacity: 18 people total (seating for up to 12)
Cost: $215 plus tax
Look out onto the South Saskatchewan River from the large, floor-to-ceiling windows in the Blue Room.
Capacity: 23 people total (seating for up to 15)
Cost: $275 plus tax
Our classroom space has custom tables and large windows with views onto the Meewasin Trail.
Capacity: 40 people total (seating for up to 30)
Cost: $480 plus tax
Contact us

To book your party at Nutrien Wonderhub, complete the online booking form to request a date/time/space. Give us a call at (306) 249-3574 if you require assistance completing the online form.
The Fine Print
Birthday party bookings are only available on Saturdays and Sundays
All birthday parties must be booked at least 2 weeks in advance.
Bookings cancelled less than 2 weeks prior to the scheduled date will be charged 50% of the fees listed above.
Those cancelled 48 or fewer hours in advance will be charged at 100%.